Tall, skinny or square?
You can choose the shape and size of your canvas print based on what fits best on your wall. Our paintings are available in lots of sizes up to 40 inches in width and height.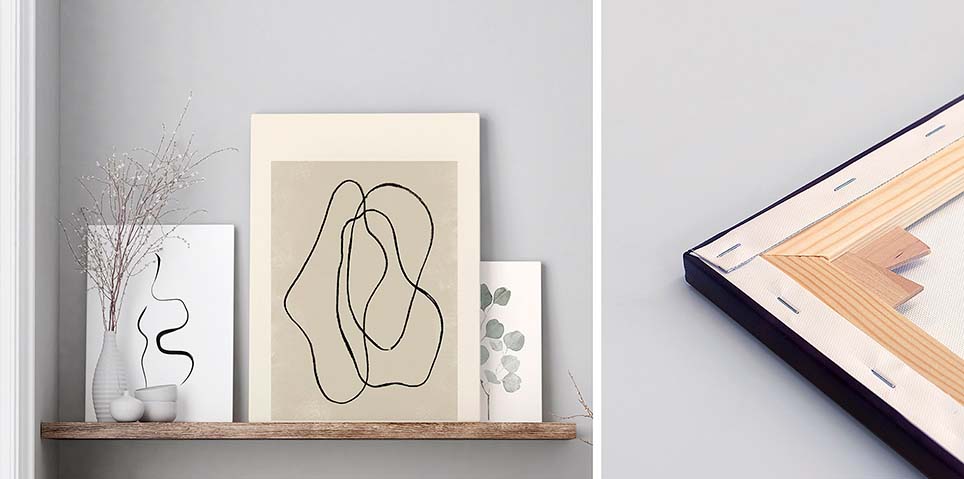 Highest quality
Our canvas prints are of the highest quality and will not fade in sunlight. We use a durable canvas that is mounted on a 0,8-1,2 inches thick stretcher frame made of FSC-certified wood.
Specifications
The canvas print is delivered pre-assembled
Canvas, 300-350 g/m²
FSC-certified wooden frame
UV-resistant print
We ship your package in 1–4 days:
Your pre–assembled canvas print will be carefully packed and delivered protected in a durable corrugated cardboard box. The package will be shipped within 1–4 days, always with free shipping.
We Care about the Environment
We only make products to order. This means no products are stored in a warehouse or thrown out unnecessarily. Our printing ink contains no hazardous chemicals and is biodegradable. To learn more about how we work to minimize our environmental impact, please see our
environmental policy.
Environmentally Friendly Materials
The canvas frame is made of wood, a material that is completely recyclable.
Climate-Smart Packaging
Your canvas print is shipped in a cardboard box made of fully or partially recycled materials.
Our Collaboration with Vi Agroforestry
Every purchase at Photowall supports our work with development cooperation organization Vi Agroforestry. We plant 5000 trees every year in the area surrounding Lake Victoria in East Africa. Learn more about the important work of Vi Agroforestry.
Would you like to print your own wallpaper or canvas? Send us an image or illustration and we'll help you free of charge with no obligation to order.
Find Your Favorite Motif
We have a large selection of canvas prints – browse through thousands of designs and find your favorites for every room in your home.
FAQ
How much does a canvas print cost?
The price of a canvas print from our range varies depending on the design you choose and the desired size of the board. You can always see the total price by entering your measurements for the desired design in our shop.
What range of measurements can I choose from when ordering a print?
Our canvas prints come in sizes from 8 inches up to 40 inches and are available in square, landscape and portrait formats.
Portrait:
8x12, 8x24, 11x14, 12x16, 12x18, 12x24, 12x36, 12x40, 16x20, 16x24, 16x32, 18x24, 20x24, 20x28, 20x30, 20x40, 24x30, 24x32, 24x36 and 28x40 inches.
Landscape:
12x8, 24x8, 14x11, 16x12, 18x12, 24x12, 36x12, 40x12, 20x16, 24x16, 32x16, 24x18, 24x20, 28x20, 30x20, 40x20, 30x24, 32x24 and 36x24 inches.
Square:
12x12, 16x16, 20x20 and 24x24 inches.
How do I find a motif?
We have thousands of motifs in our range, but if you still haven't found what you're looking for, try searching stock photo agency Dreamstime. We're happy to help. Simply contact us with the image ID number.
What are my shipping and payment options?